If you're considering upgrading your iPhone, you may have come across the MU7A3AA/A model and are wondering what sets it apart from other models. 
In this blog post, we'll take a closer look at the MU7A3AA/A iPhone model, its specifications, features, and performance, so you can decide if it's the right choice for you.
What is the MU7A3AA/A iPhone model?
MU7A3AA/A is the iPhone 15 Pro Max 256GB Blue Titanium for the UAE, Qatar, Bahrain, Oman, and Kuwait. Apple provides this model for sale and use within these countries.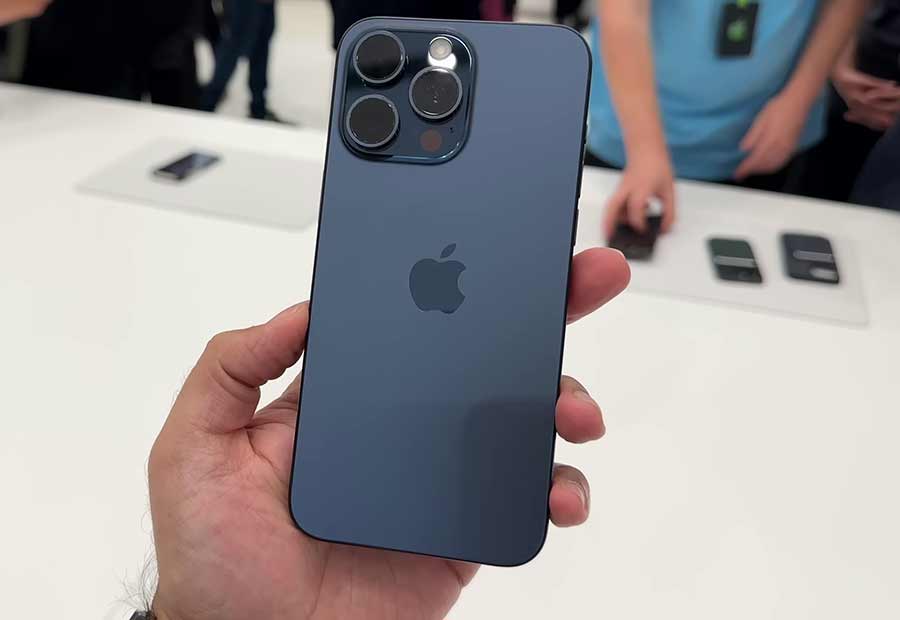 iPhone MU7A3AA/A model number and part number
Model number: A3106 (the Global model)
Part number: MU7A3AA/A
Name: iPhone 15 Pro Max 256GB Blue Titanium
Other iPhone 15 Pro Max part numbers for these countries
If you want to know how to check your iPhone's model number and part number to ensure that you are purchasing the correct model, click this link to read a very detailed step-by-step post with pictures on how to do so.
MU7A3AA/A country of origin
Apple manufactures the MU7A3AA/A iPhone model primarily for sale and use in the UAE, Qatar, Bahrain, Oman, and Kuwait.
This is the iPhone 15 Pro Max 256GB Blue Titanium version that the authorized suppliers and retailers in these countries will all have in their shops.
You can also buy this iPhone model directly from Amazon UAE at very good deals using the links below. 
And if you are an Amazon Prime member, you can get free next-day delivery. Amazon Prime membership is totally free for the first 30 days. 
Members get free deliveries for products labeled Amazon Prime as well as Amazon Prime Video, which has thousands of movies and TV shows.
Affiliate links
Click here to grab your free 30 day Amazon Prime subscription and get free deliveries and free Amazon Prime movies.

Buy your iPhone 15 Pro Max Blue Titanium model at good prices using the links below:
Note that it is not uncommon to find the iPhone 15 Pro Max 256 GB MU7A3AA/A in other Middle Eastern countries like Bahrain, Kuwait, and Saudi Arabia.
What's new on the MU7A3AA/A iPhone 15 Pro Max?
Instead of stainless steel, Apple has opted for a titanium alloy frame, the same material used in spacecraft construction.
One of the standout features of the iPhone 15 Pro is the introduction of an action button, replacing the iconic mute switch. 
This customizable button can be tailored to various functions, including toggling between different Focus modes, launching the camera in specific modes, activating the flashlight, and even triggering Siri Shortcuts.
Apple has replaced the Lightning port with a USB-C port. This USB-C port offers blazing-fast USB 3 transfer speeds of up to 10 Gb/s.
The main camera now boasts an impressive 48-megapixel sensor, which takes pictures at 24-megapixels by default.
At the heart of the iPhone 15 Pro is Apple's first 3-nanometer chip, the A17 Pro chip. It has the biggest GPU redesign in Apple's history, resulting in a 20% boost in GPU performance compared to the A16, and a 10% increase in CPU performance.
MU7A3AA/A SIM card slot (nanoSIM + eSIM dual)
Many customers were disappointed when Apple removed the SIM card slot from the iPhone 14 series sold in the United States, in favor of a Dual eSIM configuration.
Apple has continued its practice of not including a physical SIM card slot in the iPhone 15 series models for the United States and Puerto Rico.
Thankfully, all iPhone 14 series and 15 series models from other countries, such as the UAE, all have a SIM card slot.
The iPhone 15 Pro Max (256 GB) MU7A3AA/A supports one physical SIM and up to eight numbers phone numbers via eSIM. 
Please note that while you can activate up to eight eSIM numbers on this phone, you can only use one at a time.
Therefore the phone can only be used in dual SIM mode with one active nanoSIM card and one eSIM card simultaneously.
FaceTime on the iPhone MU7A3AA/A model
If you activate the MU7A3AA/A iPhone in the UAE and select the region as the United Arab Emirates, the FaceTime app will not be available on the phone.
This is the norm for all UAE iPhone models. Due to requirements imposed by the Telecom Regulatory Authority (TRA), iPhones supplied by Apple UAE, their authorized suppliers, and retailers don't show the FaceTime icon by default.
But once you change the region in the phone settings to any other country, FaceTime becomes available once more.
Sometimes you may also need to change your iPhone App Store region to another country before you can activate FaceTime.
Nonetheless, the FaceTime application will not work on UAE cellular networks as it is blocked at the level of the service provider.
Within the UAE, the only way to use FaceTime on an iPhone is via a VPN. However, if you relocate to a country other than the UAE, FaceTime will work on the MU7A3AA/A iPhone model.
MU7A3AA/A iPhone launch date
The iPhone 15 Pro Max MU7A3AA/A was announced on September 12, 2023. On that day, Apple announced four different models; the iPhone 15, 15 Plus, 15 Pro, and 15 Pro Max.
Pre-orders began on September 15 2023 and pre-order customers received their phones on Friday 22 September 2023.
MU7A3AA/A launch price
At launch, Apple priced the iPhone 15 Pro Max models in the UAE as follows (source)
iPhone 15 Pro Max 256GB AED 5099
iPhone 15 Pro Max 512GB AED 5949
iPhone 15 Pro Max 1TB AED 6799
However, you can always find the same original iPhone 15 Pro Max UAE models at discounts on Amazon UAE using the links below.
Don't forget to use this link to grab the free Amazon Prime 30-day trial so that you can make use of Amazon's free next-day delivery for products under the Prime category.
iPhone 15 Pro Max MU7A3AA/A Dimensions
When it comes to choosing a new smartphone, the device's dimensions can play a significant role in your decision-making process. 
Apple's iPhone 15 Pro Max MU7A3AA/A model is no exception, and its dimensions can impact its portability, ease of use, and overall user experience. 
In this section, we'll dive into the iPhone 15 Pro Max MU7A3AA/A's dimensions, including its size, weight, and thickness, so you can get a better sense of what it's like to use and carry this phone with you on a daily basis.
iPhone 15 Pro Max MU7A3AA/A Size and Weight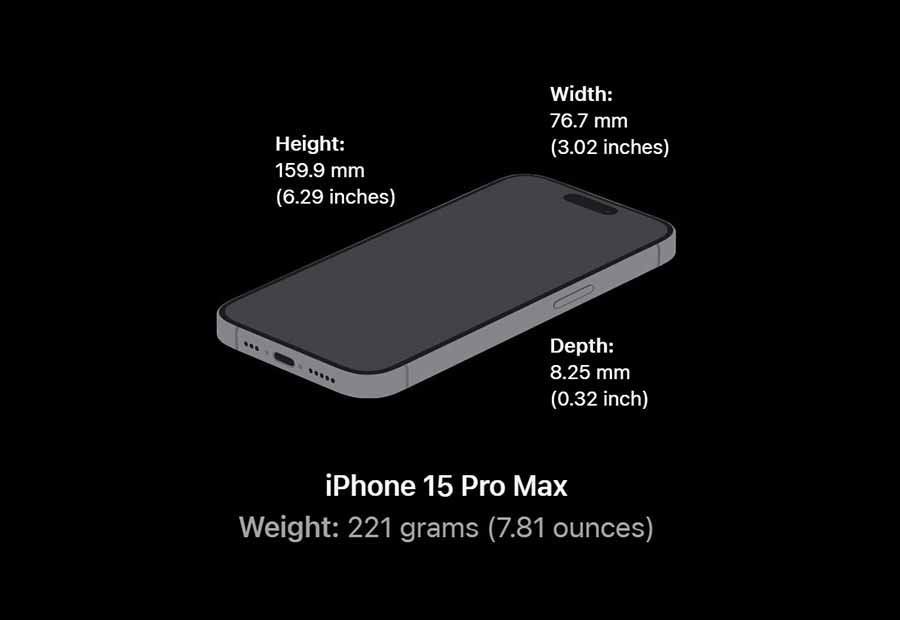 Weight: 221 grams (7.81 ounces)
Height: 159.9 mm (6.29 inches)
Width: 76.7 mm (3.02 inches)
Depth: 8.25 mm (0.32 inch) 
iPhone 15 Pro Max MU7A3AA/A battery capacity
The iPhone 15 Pro Max MU7A3AA/A has a non-removable Li-Ion battery with a capacity of 4422 mAh (source).
It can gain 50% charge in 30 minutes when using a 20W adapter. It also supports 15W wireless charging via MagSafe or 7.5W wireless charging with a regular Qi charger.
It's worth noting that this phone doesn't come with a charging brick or headphones. Instead, you only get the phone and a 1 meter USB C to USB C cable.
If you plan on using your iPhone 15 Pro Max MU7A3AA/A for a long time, you will definitely be happy to know that Apple offers battery replacement services for it. 
According to information from Apple.ae, the iPhone 15 Pro Max has an estimated battery replacement cost of AED 385. 
You can read more about iPhone battery replacement costs and how to care for your iPhone battery by visiting this link.
iPhone 15 Pro Max MU7A3AA/A recommended accessories
Since the iPhone 15 Pro Max only comes with the phone and its charging cable in the box, you would have to buy a few extra accessories separately if you needed them. 
Below is a list of recommended accessories for your iPhone 15 Pro Max MU7A3AA/A. Click the links to see where you can buy them and how much they cost.
Conclusion
In conclusion, the MU7A3AA/A iPhone 15 Pro Max 256GB Blue Titanium is a standout model for residents of the UAE, Qatar, Bahrain, Oman, and Kuwait. 
Its key features include a titanium alloy frame, a USB-C port, a powerful 48-megapixel camera, and a new customizable button called the "Action Button" that replaces the mute switch. 
FaceTime availability can be adjusted through region settings. It was officially launched in September 2023, and while it offers various storage and color options, it doesn't include accessories like chargers or headphones.